It's that time of year again and your long awaited balik kampung or holiday trip finally arrives.
But habits would get the better of us sometimes and we embark on that long drive as we would on our daily work commute only to find out a major fault in the car would place you and your family's safety at stake.
I speak this from experience, in one trip up to Cameron Highlands from Kuala Lumpur, my car's engine block gasket failed resulting in a total engine failure.
If not for my fast decision to pull over the car would have just stalled in the middle of the highway, wife and child in tow!
Here are 10 essential pre drive checks to ensure that you have peace of mind for your next long drive.
1. Service Your Car
The checklist here is with the assumption that you will bring your car to an authorized service center or one that you trust.
Which would cover the regular engine oil change, oil filter change, tyre alignment checks, tyre pressure checks , radiator checks, battery checks, etc.
You can always inform your car service representative or foreman that you will be going on a long journey and would prefer a thorough check.
They will know what to do. But the other following pre drive checks are things that your service center usually do not look into.
2. Check Your Horn
Unless you are driving in countries like India or Egypt where using the horn frequently is the accepted norm it is best to check them, just don't annoy your neighbours while you are at it by doing the check in a more isolated location.
3. Check Your Hazard Lights
No, these are not the yellow blinking lights you use when you want to plough through the highway at higher than normal speeds, rather they are used if your car has stalled.
So check that the switch works and that ALL the signal lights are working.
4. Headlights
Give a check to see of your headlights, both the high beam and low beam setups are working. Both sides should come on and best to also check if your brake lights come on as well.
5. Visibility Checks
Luke Skywalker was able to use The Force when practicing his lightsaber 'blindfolded' in Episode 4. Unless you have mastered The Force, we suggest that you perform these checks to ensure optimum visibility.
Check your wipers. Are they working at every speed setting? Are the wipers working properly even after cleaning them? If not change them.


Refill the wiper fluid if empty or low.


Use windshield treatment like Rain-X and test it after the application. Don't forget your side windows and your side mirrors especially.


Check if the rear demister or defogger is working. For the front windshield, most cars will have the option to channel the air conditioned air towards the windshield.

These are the regular buttons they use for that option (just in case you didn't know):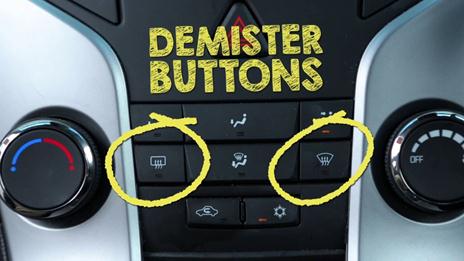 Sunglasses: to be able to drive well in bright sunlight, having a good pair of UV blocking sunglasses will be a lifesaver.

Not only will you still be able to see when bright or in a sudden glare, but the UV blocking will also save your eyes from UV damage.
6. Check Your Emergency Kit
What's in the kit? Usually anything you would need to change a car tyre. Also handy in an emergency is the "emergency triangle" to alert other motorists of your situation.
Be aware that you need to place the triangle at least 2 car lengths before your car to allow other drivers enough time to avoid your stalled vehicle.
Having said that, make sure your spare tyre is pumped up too! Many a times people have been caught with a flat tyre only to discover their spare has gone flat too.
7. Fuel Up
Another very important pre drive check is to fuel up. Pretty obvious tip but you don't want your car to run out of fuel in the unlikely event of a stand still jam with no petrol stations in sight.
8. Touch and Go
A lot of the highways in and around the city have gone cashless. Don't get caught without sufficient funds in your Touch and Go!
In a pinch, did you know that your new NRIC can also store credits for Touch&Go use?
9. Planning Your Trip with a Phone App
Planning your trip with a phone app such as Google Maps and Waze can come in handy even though you may know the journey like the back of your hand.
You should do this at least a night before the trip and save it, and not while you are already on the road. These apps can save you a lot of time by giving you alternate routes should there be a jam.
Speed trap alerts come in handy too to remind you to keep within the speed limit.
Also, using a sturdy phone cradle or mounts are essential to keep your hands free and the phone in plain sight. Remember, it's a serious offense if you're caught with your phone in your hand!
10. Emergency Numbers
Most highways around Malaysia have a toll free number or an emergency number should you find the need to have your car towed or have any car trouble.
PLUS Highway's Toll Free Number is 1800-88-0000. If you're more of an app person, do download the PLUS Highway App.
It shows your route and toll prices but unfortunately, if you're having car troubles, you can't click a button to call for help.
You'll still need to call their Toll Free Number, or use any of the emergency phones along the highways.
Other emergency numbers are:
03-61203322 – East Coast Expressway, KL – Karak Highway, Kuantan
1-300-1-300-03 – Jambatan Pulau Pinang
07-27880000 – Laluan Kedua Malaysia Singapora (SecondLink)
Alternately, there are some Insurance Plans that come with FREE TOW services or a direct line to call in case of emergencies.
Other car clubs like the BMW car club also has dedicated teams to assist in case of emergencies.
Finally, don't leave it to the last minute to get all of this done. Be aware that the few days running up to a long weekend or festival are when the service centres are usually packed!
So, plan ahead and drive safe!