Continental Tires, one of the world's most iconic tire brands, has earned a reputation for trustworthiness, durability and exceptional quality that capable of handling various challenges on the road.
When discussing the benefits of Continental tires, numerous advantages can be elucidated.
A common question often posed is where to find an affordable car tire shop and which tire brand reigns supreme in the market.
Our response remains consistent: the choice depends on your driving habits and personal tire requirements.
For those seeking Continental tires in Malaysia, it's crucial to comprehend the advantages of this tire brand before making a purchase commitment.
After all, we aim to instill the confidence that our brand aligns with your driving criteria.
Why Choose Continental Tires?
Continental offers a diverse range of tires tailored for different vehicle types. It's even possible that when you purchase a new car, it comes equipped with Continental tires.
In 2018, Continental reached the pinnacle of recognition by clinching all three Auto Express Tire Test Awards in the winter, summer and all-season categories.
In 2019, the UK's leading weekly car magazine, Auto Express bestowed upon Continental tires the Product of the Year award.
1. Warranty Guarantee
Continental provides comprehensive warranties for their tires, including a 1-year Hazardous Road Warranty and a 5-year Manufacturer's Standard Warranty.
2. Long Lifespan
Continental tires are designed to endure, enhancing your driving performance. The CrossContact AX6 technology features a robust tread and superior traction.
Adhering to effective maintenance practices ensures extended tire longevity, optimal performance and more enjoyable journeys.
3. Worth the Price
As a multi-award-winning tire brand, Continental offers competitively priced tires. This not only elevates your driving safety but also puts your mind at ease in the search for cost-effective options in the market.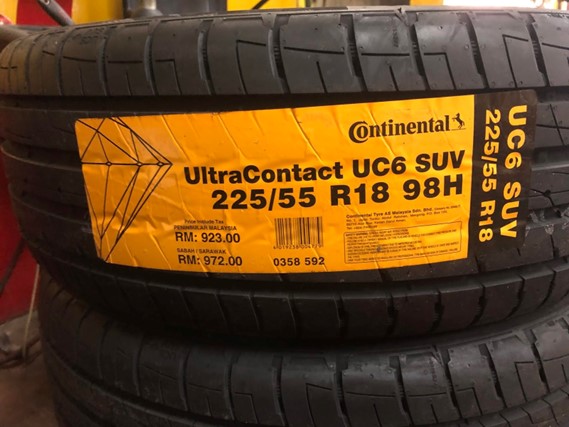 4. Tire Noise
The Continental Premium Contact 2 tire generates slightly more noise than the Continental Comfort Contact 6 tire. However, the Comfort Contact 6 remains quiet, even on uneven surfaces, with exceptional softness.
The Premium Contact 2 excels in delivering quick and precise responsiveness when navigating corners. Notably, the difference in tire noise between these two models remains within an acceptable range.
While the Premium Contact 2 may provide a slightly firmer ride on bumpy roads, it doesn't compromise driving comfort. Despite its 55% thinner sidewall, it effectively absorbs bumps and road imperfections.
A loud noise when encountering a pothole indicates its depth.
Continental's Premium Contact 2 tire combines two polymer technologies – a short-grip polymer for improved road grip during steering and braking and a long-mileage polymer for extended tire life.
5. Durable Tires
Continental offers the Continental Conti MAX Contact MC5 tire, ideal for compact cars like the Honda Civic (size: 215/50R 17). It boasts a width of 215 mm, a 50% aspect ratio, and suits 17-inch rims.
This tire carries a "V" speed rating, signifying a maximum speed limit of 240 km/h.
Continental's tire range encompasses elegance, innovation, and exceptional performance, ensuring a delightful driving experience in all weather conditions.
6. Special for Vans
The Continental VanContact AP is designed to retain its strength and withstand damage, even in rugged road conditions.
It possesses the load capacity required for specific inflation pressures, ensuring tire durability and sidewall integrity. VanContact AP tires are also engineered for tubeless installation on suitable wheel rims.
In Conclusion
With the multitude of advantages offered by Continental tires outlined above, we believe that these benefits can instill the enthusiasm to choose Continental tires from Tayaria.
We are committed to enhancing your road experience and prioritize your safety as an irreplaceable value!